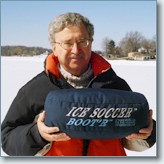 The uniquely shaped and weighted Boot'r makes controllable, sustainable play possible. The Boot'r, by Taylor Sports, L.L.C., is the only official projectile authorized for use in the play of ICE SOCCER.
Before the Boot'r, soccer on ice was not a viable sport. The patented design of the Boot'r provides a big "sweet spot" for control; and its weight and shape keep it in play at a speed that enable players to execute serious passing and play-making. These features also provide for breakaway kicks and surprisingly fast shots-on-goal.
The Boot'r comes in two different sizes
The navy blue adult version is slightly more than 3 pounds in weight and is intended for adult league and general play.
The red youth version is smaller and lighter (approximately 2.25 pounds). It is intended for play by boys 10-14 years old and girls ages 10-18.
The Boot'r makes a great gift for the outdoor sports enthusiast.
Buy someone a Boot'r for Christmas, a birthday, or any occasion to have fun playing a new and different team sport!